Lupaster Mysteries
I also write mysteries. They feature a blind master detective and his assistant and owe a great deal to Dashiell Hammett, Raymond Chandler, and Rex Stout. Put me in a room filled with the works of that trio and I might never come out. I think I have read several times everything that those three ever wrote (including Rex Stout's pre-Nero Wolfe writings, which are not so easy to appreciate.) I also have a passion for the Victorian novelist Anthony Trollope, especially for the depth and realism of Trollope's characters. If I can even come close to the icons I try to emulate, I will be have achieved more than I deserve.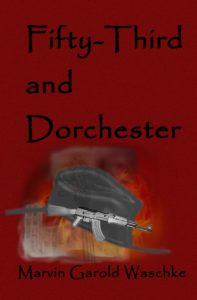 The first book in the Lupaster and Haskell stories is Fifty-Third and Dorchester. On the South Side, the University of Chicago may uphold the life of the mind, but even the law of gravity is fair game for political influence.
Lupaster is a blind, cello-playing master detective with a cynical view and a sharp tongue. Reggie Haskell is Lupaster's eyes and hands on the street. Reggie wise-cracks his way into and out of trouble. Together Reggie and Lupaster take on the dubious blackmail case of a beautiful black woman who runs something called the New Peace Temple in a decaying suburb. Blackmail turns into death threats, murder, and underworld smuggling traffic on the fetid Chicago Sanitary and Ship Canal. Reggie's demolition experience, his sidekick Fellman's Krav Maga, and the wily Sam Procus' knowledge of the South Side streets all come to bear.
Computing
A book for IT professionals to hand to their users when there are just to many questions to address. I wrote this book for people who use computers everyday, but are not technicians. A group that includes just about everyone today.
Cyber crime is in the news all the time and it can be daunting. Millions of credit cards are stolen in a single heist and marketed on the sinister dark web where anything and everything is for sale. Viruses, worms, and trojans creep into personal laptops, desktops, tablets, and smartphones. We are phished, driven by, and pwned. A hacker on the other side of the world grabs your personal laptop and holds photos of your wedding, your children's birthdays, and family picnics for ransom.
The industry woke up a few years ago and became serious about computer security, but it has a long way to go. Law enforcement is getting better, but it is often ineffective against crimes that do not involve six-figure thefts, even though smaller crimes are often catastrophes for ordinary citizens.
Personal Cybersecurity explains what is happening in cyber crime and security and how it all works, then offers practical advice on avoiding crime and recovery for victims.
Cloud service management is challenging. This book brings ITIL service management practices into the cloud era and explains the central role of clouds in managing IT today. A private cloud architecture centralizes the distribution of servers and data in an enterprise, which is helpful in bringing together the discordant cacophony of services that many enterprises rely upon. It may seem contra-intuitive, but outsourcing to Software as a Service (SaaS) often helps with centralized integration because all the information associated with a function is held by the cloud service provider. This enforces consistency and discourages unnecessary regional variations in the implementation of services.
Cloud computing would not exist without standards. This compendium is a primer on the technology that goes into building a cloud and a reference for anyone who needs to know what the standards cover and how to get to the original standards documents. Looking at the many standards that clouds rely upon to provide their services to all comers, the dependence of today's computing on the work of the last decades becomes clear. Standards make it possible to forget about the implementation of an action and concentrate upon evermore complex compositions of activities that ultimately support a desirable end.