The Vine Maple Studio is a farm house on a dead end road that was once my family's drive way. The house was built close to a hundred years ago by my grandfather, my great-grandfather supervising. They moved in when my father was three. As near as I can tell from the fragmentary documents I have seen, my grandfather bought the farm from the original homesteaders. We have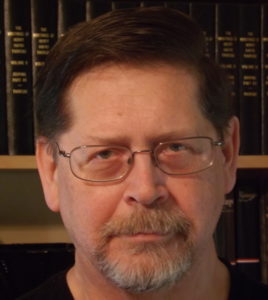 a deed signed by President Ulysses S. Grant, which is to a plot of land that I believe includes the farms of two of my great-grandfathers, my grandfather's farm, and at least one other farm. I know my grandfather bought his farm, the farm I live on now, when he married my grandmother, and he did not buy it from his father. Apparently, the original homesteader sold off his original parcel in pieces between 1880 and 1910, but I don't have documents showing exact dates.  All the participants are dead now.
We still have the original house where my father was born, a shack built from cedar boards and a hand split cedar shake roof. The froe grandpa used to split shakes sits in the wood shed. It is handy for splitting kindling. After they moved into the new house, my grandpa put  a work bench in the old cedar shack and built things there. He was inventive. I watched him use hand tools to build a tall orchard ladder, a contraption for cutting seed potatoes, and a sort of elevator for moving hundred pound sacks of potatoes from the basement to a truck. He made a bow and arrows and a crossbow that shot wooden pellets for me. The old shop is still there, but it is filled with junk and my own shop is in the garage where I have electricity. A skunk family lives under the floor of the old shop, but they don't mind us because we never go in there anymore.
Someday, the skunks will be disturbed because I have to do some work on the old shop. The north east corner is sagging and the north wall is pushing out. The skunks, if they care, will be glad to know that I don't think I'll get to it this year.
The house my wife, our Pomeranian and Border Collie dogs, and I live in was built by my grandfather in about 1916, about ten years after the original cedar shack was built. We remodeled in 2007. The house was originally heated by a wood burning kitchen range and a wood furnace in the basement. The Pacific Northwest is renown for mild, rainy winters and cool rainy summers that blow in from the Pacific, but, occasionally in winter, the northeast wind from the Canadian Arctic can gust at a hundred miles an hour blowing sub-zero temperatures in our neighborhood.
Homesteaders like my grandparents built their houses with the northeaster in mind. The rooms were all quite small so they could be closed off to preserve heat. Few windows on the north side, lots of sun on the south. Remodeling consisted mainly of removing walls to open the house up, installing a modern heating system, double-pane insulated windows,  and insulation to accommodate a more contemporary way of life. But it is still a hundred year-old house; quirkier and draftier than one built more recently.
I am a ne'er-do-well computer programmer. I have  a bachelor of science in computer science, and a journeyman carpenter certificate from the carpenter's local and the state apprenticeship council. Long ago I graduated with honors from the University of Chicago where they admitted me to PhD candidacy in Chinese literature and history. Someplace, I have an inch or two of a thesis and my library has ten or fifteen feet of classics in literary Chinese. I usually have some classic or another open on my desk so I can read a character or two when the mood strikes, but I go to the dictionary often. Today, I have open Ssu-ma Ch'ien's history of China written the the early 1st Century BCE. I'm reading the biography of Confucius. The language is quite formal and tough going for me.
I used to work at home for a New York Fortune 500 IT management software company, CA Technologies. From the old farmhouse, I was a principal software architect and divisional vice president, agonizing over finding enough hours in the day to keep up the farm and earn a living. In 2013, I was laid off, which was a great opportunity to take a generous severance package and retire. Now I agonize over keeping up the farm and writing books.
Adding further interest to my life, I have a congenital heart condition, hypertrophic cardiomyopathy (HCM), for which I had open heart surgery, a septal myectomy, at the Mayo Clinic in 2008.
When you hear of a young athlete dying on the playing field, the cause is usually undiagnosed HCM. About 1 in 500 people have HCM, more than some better known diseases. Many live a long life without any symptoms, but the most common symptom is sudden death. I occasionally have symptoms that resemble a mild heart attack, but they are treatable with medicine. The surgery in 2008 appears to have been quite successful, so I am not so bad off as it might appear. Like many people with HCM, I believe that screening for HCM, especially for young athletes, should be routine. Lives would be saved. If you are interested, check out the Hypertrophic Cardiomyopathy Association.