I began reading Rex Stout at the prompting of Herrlee Creel, the great Chicago sinologist. Creel insisted that his students write well, not only well by academic standards, but by his own standards. He was a great writer himself. He frequently railed against journalists – a word he pronounced with a sour expression – but his own books often made their way to the New York Times best seller list and are written in simple elegant language that was appealing both to scholars and ordinary readers.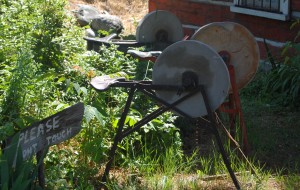 Chicago was, and I imagine still is, one of those schools where the title "Doctor" is only accorded to physicians, not PhDs. Calling a professor anything but Mister was the mark of an outsider. When I began taking classes from Mr. Creel, I was a typical undergraduate, filled with academic jargon and vocabulary I had picked up from my first dip into a grown-up intellectual community.
"What do you read, Mr. Waschke?" Mr. Creel said as I entered his office in the the Oriental Institute on the floor above exhibit halls filled with winged bulls topped with human heads. The meeting was to review a paper I had submitted for my senior thesis. Mr. Creel had a reputation for being hard on students, which was why I requested him as an advisor. I had no sense whatsoever back then.
I stammered out the names of a few books I had read recently for classes, the most impressive I could think of.
His look was withering. "You would do better to read Rex Stout. Read him, write like him." He went on to say that the paper was acceptable, but poorly written. He pointed out some of the worst abuses and we discussed a few points, but he approved the paper for honors, which was all I wanted.
I left the Oriental Institute with a light heart. It was a winter quarter day where the sky matched the gray neo-gothic buildings on the Chicago Quad and a few flakes of snow fluttered down in the breeze off the Lake Michigan.
I headed north on University toward the apartment I shared on 53d and Dorchester. In those days O'Gara's book store was on 53d and I stopped and found a handful of used paperbacks by Rex Stout. I kind of knew that Nero Wolfe was Rex Stout's detective because my Dad subscribed to Saturday Evening Post while it was still a real magazine and Nero Wolfe stories appeared there. O'Gara approved of my choices– I think he suggested I pick another one off the shelf that was his favorite and I think I followed his recommendation.
When I got back to the apartment, I started to read. For the rest of the week, I barely kept up with classes, I was so drawn into the world of Archie Goodwin and Nero Wolfe.
I haven't completely left. I don't have all of the stories and novels, but I have most of them and I have read every one several times. And I still haven't learned to write like Rex Stout.